'Red Hot' Valentine Treats!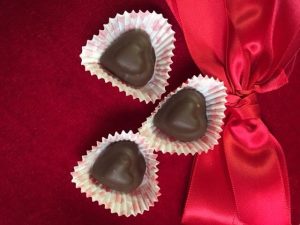 Lots of people think our busiest season in the chocolate business is Valentine's Day. Flowers, chocolates, teddy bears, and champagne, it might be hard for you to think back to a Valentine's Day when you didn't give or receive chocolate. Am I right?
While we do see a surge in business around the big day, it is not our "busiest" time. It is, however, a fun time in the factory. Here in New England, we are in the depths of the winter doldrums. Coming down off the Christmas season production, we like creating confections with a little whimsy.
Enter the Cinnamon Cream!
This unassuming chocolate has a sweetheart shape. It is nestled in a heart printed cup. Inside the chocolate, is a smooth cinnamon cream center. The chocolate cools the heat of the cinnamon for a simply divine creamy finish.
If you are familiar with Wilbur's of Maine, the first thing you may notice is that this is not our typical cream. That is because the cinnamon cream is a cooked fondant-based cream. Our other creams are uncooked.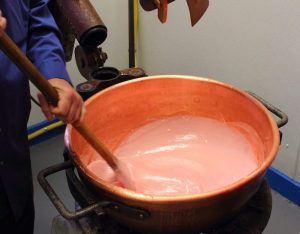 The result?
Smaller sugar crystals for a softer finished product.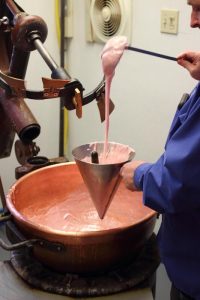 So soft, in fact, that it can actually be funneled into forms. That is how we get the heart shape on this beauty.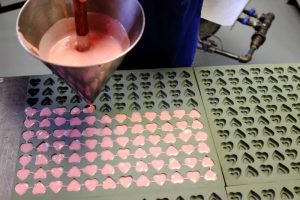 Everything is done by hand, as you can see. We cook in copper pots, ladle into funnels and fill each heart shape one by one with a funnel and stopper.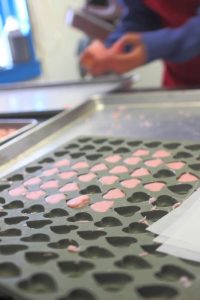 Once cooled, the creams shrink slightly and naturally release from the form when turned over.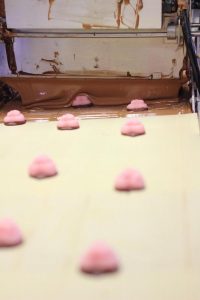 Then it's time for everyone's favorite ingredient, chocolate! They are sent down the enrober to be coated in milk chocolate. Later, we make another batch using dark chocolate instead.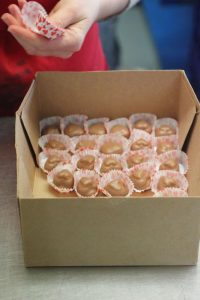 They are hand-packed and head to our stores to be used in Valentine assortments and more! Send your Valentine a red hot chocolate sweet from Wilbur's!