Chocolate Angel Food Cake in a Mug!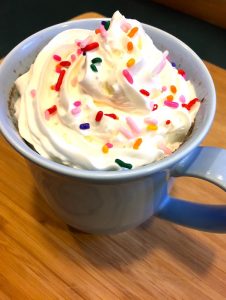 Unless you live under a rock, you've heard about Mug Cakes by now. These cakes can be made quickly in your microwave whenever the mood strikes. Some recipes have a list of ingredients so long you may as well make a full-size cake in the oven and be the hero that you are.
We are Chocolate People!
Our main goal in life is to eat chocolate, create other reasons to eat chocolate, and conveyances for said chocolate. We put so much time and energy into making amazing chocolate the rest of life must be simple. This brings us to the Chocolate Angel Food Mug Cake.
This is not a cake you really want to eat plain, with no hidden chocolate or other accouterments. Unless you're a really boring person with such culinary misgivings as believing ketchup is "too spicy," then, by all means, dig in. This cake is meant to be a vehicle for our already scrumptious chocolates.
Before you cook this gem in the microwave, add one of our bite-size confections to the mix. One minute later your cake is ready. You have turned your favorite chocolate into a full-blown dessert. The instant gratification is so good you'll feel like a millennial. Sit back, relax, and let's go on the amazing culinary adventure of Mug Cakes.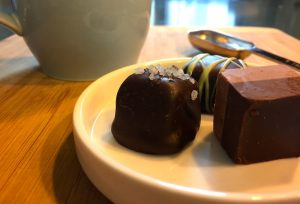 Ingredients:
1 box of Chocolate Cake mix with "pudding in the mix"
1 box of Angel Food Cake mix
Water
Your favorite Wilbur's of Maine chocolate(s)
Optional: whipped cream, sprinkles, Maine Mud Chocolate Sauce, Maine Mud Caramel Sauce
Gather a snap-top storage container to keep your mug cake mix in, a mug for everyone, and a tablespoon measure.
Step 1:
Pour two cake mixes into your storage container. Stir or snap on the lid and shake until fully combined. You'll end up with a pale brown mix once evenly combined.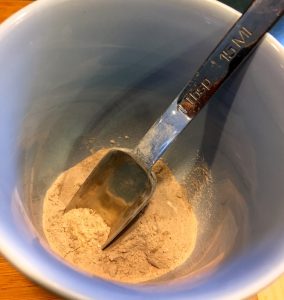 Step 2:
Measure 6 Tablespoons of mix into a microwave-safe coffee mug. A 12-16 ounce mug is a good size.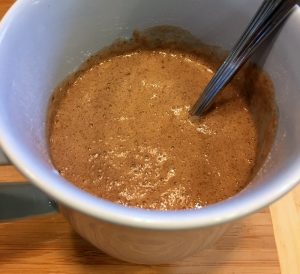 Step 3:
Add 4 Tablespoons of water to your mug. Stir until well combined. At this point, you'll have some kind of frothy brown liquid that looks like the weird low-fat hot chocolate Mom tried to give you in the '80s. Don't worry! We're about to improve that.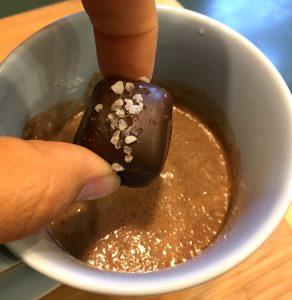 Step 4:
Select one of your favorite Wilbur's of Maine chocolates. We're using our Dark Chocolate Sea Salt Caramel. Drop in and watch it sink quickly to the bottom
Step 5:
Microwave on high for one minute. We tested ours in a 1,000-watt microwave.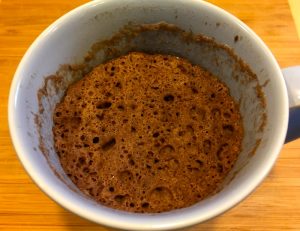 Step 6:
Let it cool for 5 minutes! This cake is basically scalding hot at this point. Center of the earth hot! Yes, it looks like a chocolate sponge. Have faith.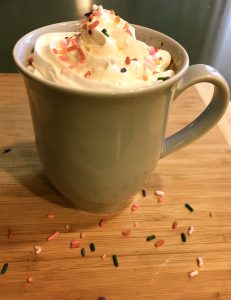 Step 7:
If you listened to me, five long minutes have passed.
It's time to add your other optional toppings:
Whipped Cream
Sprinkles
Maine Mud Hot Fudge Sauce
Our Brand New Caramel Sauce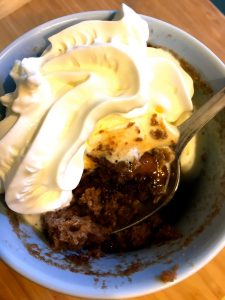 Step 8:
EAT! Your chocolate is sitting in a pool of melted heaven at the bottom of the mug.
You have two options:
Dig down deep with each bite. Capture a little bit of chocolate on your spoon each time.
Stir this cake up! Mix in the chocolate, whipped cream, and cake until you get something that looks terrible, but tastes AMAZING!
Put a little note on your container of mix to remind yourself. Six tablespoons mix, four tablespoons water, and one minute in the microwave. You'll be one minute away from Chocolate Angel Food Cake bliss any time you please. Enjoy!