As a Maine-owned and operated business, we love serving our community members as they mark the special occasion in their lives. Be it weddings, showers, anniversaries, reunions, award ceremonies, and more, Wilbur's of Maine has what you need to add the finishing chocolate touch to your event. Below, find ideas for adding that customized or personal touch to your special day.  
Please call us at 877 CHOCLIT (246-2548) to inquire further, discuss pricing or place your order.  
Solid Chocolate Genevas
A solid piece of Milk, Dark, or White Chocolate topped with a candy icing decoration to match your colors or theme. A variety of flowers, hearts, nautical, Maine, or sea life decorations are available. This is one of our most popular special order pieces. Get these darlings in a 4-pack or individually, large or small size.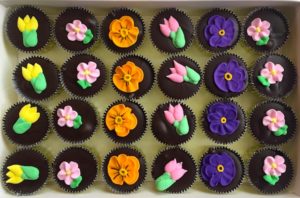 ---
Foil Wrapped Chocolates
Hearts, pansies, autumn leaves, and more are available. Most made with our Premium Milk Chocolate. Some designs are available in our smooth Dark Chocolate.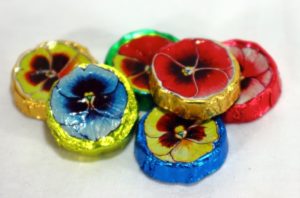 ---
Gift Boxes
We offer a variety of box sizes and colors with prices starting at $1 per box for our smallest box without product. We ribbon the boxes for you in a color of your choice. This is a great way to incorporate the color scheme of your event into the product. To personalize the boxes, there is an additional set-up charge of $95. Advance notice required for box printing.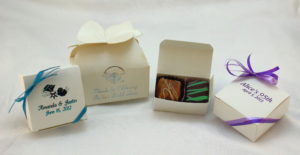 ---
Favor Baskets
We have adorable paper weave organza baskets that are a beautiful way to securely display your candies or small objects for your guests. With a cornucopia of color and candy confections, we help you find the perfect color scheme for your gift-giving needs. Great for a traditional wedding.
The basket base is 3″ in diameter and 1.5″ high. The total height of the basket and organza is approximately 4 inches. These baskets are available in a wide variety of colors – Red, Hot Pink, Gold, Silver, Light Purple, Light Green, White, and Ivory.
---
Favor Bags
A lovely 4″ x 6″ embroidered satin bag, available in white or ivory. Price is based on the chocolate or candy you choose to fill the bag. We also offer the organza bag shown below in a variety of colors to match your theme. For an additional fee, we can design a tag just for you as shown here.  
---
Chocolate Platters
Gourmet Chocolate Party Platters available now! You may choose your favorites or we can prepare a delicious selection for you. Prices vary according to size and chocolate choices. This selection is only available for pick-up or local delivery.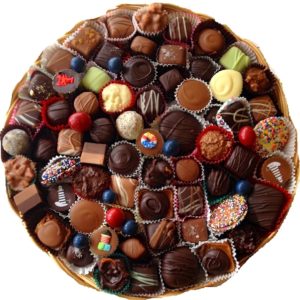 ---
Candy Buffet
Bulk, loose penny candies, and scrumptious panned chocolates are available for you to create your own candy buffet at your event! You can customize based on colors or theme! The options are nearly endless! Prices vary widely depending on candies/chocolates selected. Perfect for every budget!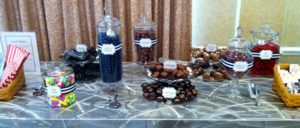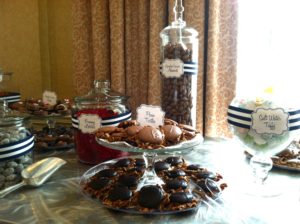 ---
Personalized Chocolate Bars
Design a chocolate bar label for your special event! Choose your text and personal photos to create a truly unique gift for your guests. Initial setup fee of $75. Bars are $2.25 each. Available in Milk or Dark Chocolate.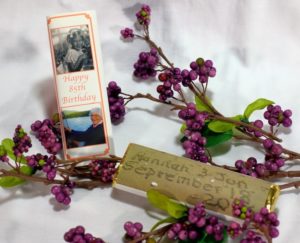 ---
Small Molded Chocolates
The most popular of course are ocean, seaside, and Maine-themed like those shown here. If you have a favorite animal or pastime we might just have chocolate to match! We individually bag these chocolates and tie them closed with a ribbon to match your color scheme.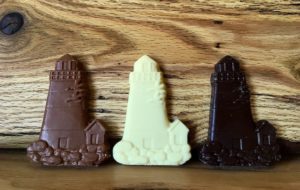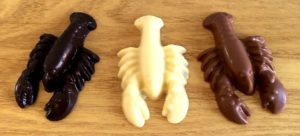 ---
Personalized Chocolate Coins
Set up cost of $95. Each coin .20-.35 cents according to the volume ordered. Gold coin= Dark Chocolate and Silver coin= Milk Chocolate. Other colors of foil-wrapped coins available depending on the volume ordered and advance notice of the order.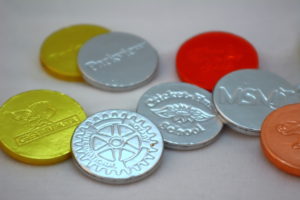 ---
Table Pieces
Chocolate baskets large and small and a chocolate Bride and Groom are just some of the larger showpieces for your tables that we can make here at Wilbur's. Available in milk, dark or white chocolate. These pieces must be picked up in-store and cannot be shipped.