Wilbur's of Maine Chocolate Confections always sought to bring the highest quality confections to our customers for the best value. As we grew, we produced more of our own confections, replacing those made by others. As a family-owned and operated business, we strive to create a family atmosphere in our workplace and retail stores.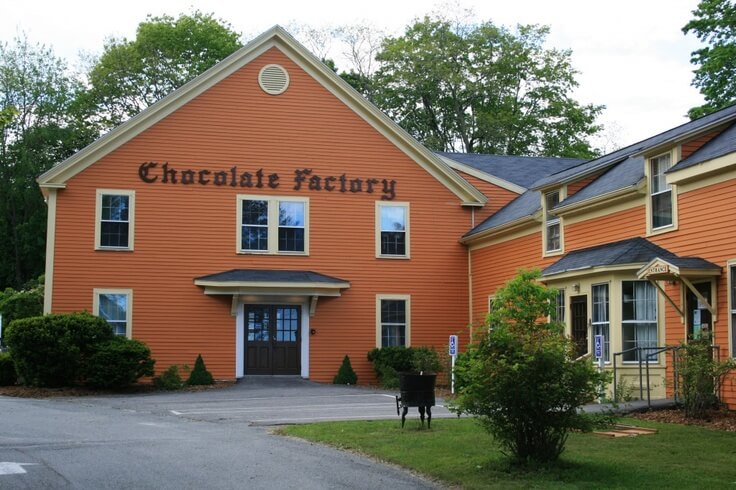 HISTORY
Tom and Catherine started the business in 1983 as a retail establishment on Bow Street in Freeport, Maine. At the time, there were only two outlet stores in Freeport. Tom soon began experimenting with chocolate, developing Wilbur the Moose.
Production grew to require moves until the factory landed at its current location at 174 Lower Main Street in Freeport in 2008. Along the way, we added our Brunswick, Maine store. In 2011, it moved from the Tontine Mall to Maine Street next to Field's Jewelers.
Our "Factory Store" was an addition when we moved the production to Lower Main Street in Freeport. This location features a wide selection of Maine Made foods and products. Some of which you can now find here on our website.
Andy Wilbur, Tom and Catherine's son, rejoined the family business in 2008. His enthusiasm and innovations keep us all hopping. Andy developed his own line of Meltaway Truffles. They quickly became among the most popular confections we offer. Andy sees Wilbur's of Maine as a destination for travelers near and far.
He wants to make sure our customers know that they can always find quality, delicious products and a positive experience at our stores. In 2016, he took ownership of Wilbur's of Maine, leading us into a new age of updated facilities, new products, and the same tried and true recipes you already love.
RECOGNITION
Tom and Catherine Carty-Wilbur received the prestigious Gowell Award in 2012. Every three years, the New England Retail Confectioner's Association (NERCA) presents this award to recognize a member's contribution to the association and the retail confectioner field. It is considered the highest award given as peers choose the recipient.
In 2015, Wilbur's of Maine received the Chase Bank Mission Main Street Grant. A grant focused on giving small businesses already making a difference in their communities the opportunity to grow in their field. Wilbur's of Maine is an 13th-time consecutive winner of Downeast Magazine's Reader's Choice Poll for Maine's Best Chocolate and Candy Shop (2010-2022).