How to Make Chocolate Chip Cookies the Wilbur's Way
Chocolate chip cookies! There are few things in the food world as delectable as a simple, chewy (that's right, I said chewy. You crispy cookie people can mosey along), melty chocolate chip cookie.
In fact, let's give this cookie a little respect:
Chocolate. Chip. Cookie.
There, that's better. We make our cookies with, of course, Wilbur's dark chocolate bark (get it by calling 1.877.CHOCLIT). Honestly, that's what separates the men from the boys in the cookie world.
Once you see the scrumptious shavings of chocolate layered into these buttery cookies you won't look back to those little wimpy chips again.
I mean just look at these beauties…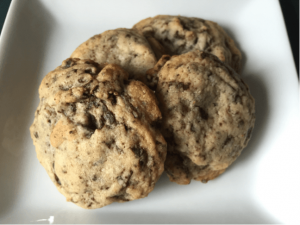 Pure heaven. So, let's start with the chocolate.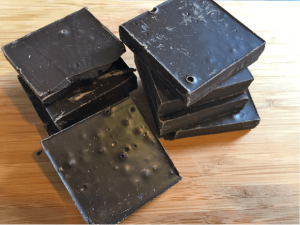 We have 12 oz. of some of the finest dark chocolate, us mere mortals can lay our hands on. Begin to chop a corner and work your way in.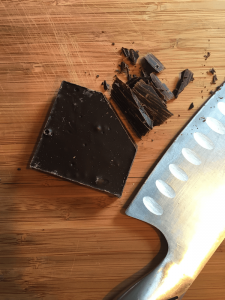 The chocolate shaves off as well as chunk apart. This is a good thing.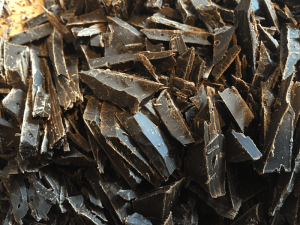 When you have a glorious mountain of chocolate, it's time to wipe the drool from your mouth and get cooking.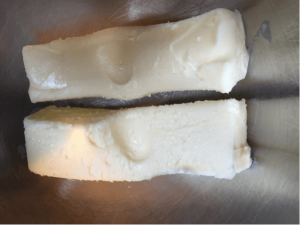 We start with softened butter. A half a pound to be exact. Sounds scary, doesn't it? Well, we can call it two sticks, too. That sounds a lot better, a mere two sticks.
So, how do you know if it's soft enough?
When the stick peels away from the paper, looks a little textured, and your finger easily leaves an impression on the stick. This makes for luscious, golden cookies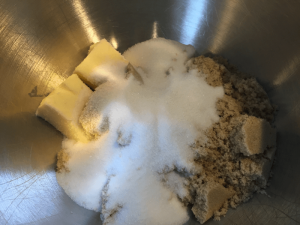 Add your sugar and blend until you can no longer tell where sugar ends and butter begins!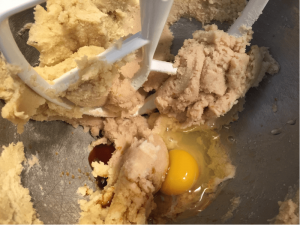 Add your vanilla and one egg. If you really want to be a pro you crack your egg into a separate bowl. Then, add to your butter mixture. This keeps any "bad" eggs out of your dough, but also keeps out the stray eggshells. It's especially helpful if you have a pint-sized kitchen helper or you yourself are moderately hopeless in the kitchen. Mix until fully incorporated and repeat with the second egg.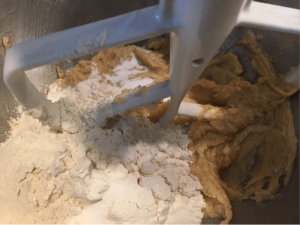 Scrape down your bowl it's time to start the dry ingredients. One cup of flour, all your salt, and all your baking soda. Mix until just combined. Add remaining cup and a half of flour and mix until just combined. Over mixing your dough results in the words "tough cookie" thrown around, not in a complimentary way. Now, it's time for the CHOCOLATE.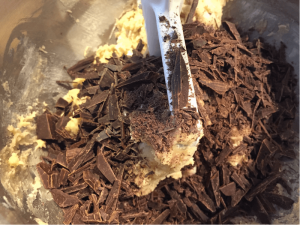 Dump it all in, go ahead. Now, when you turn on your mixer it's going to be mad at you because that's a lot of chocolate and you've got a thick dough, but that's okay, we're only using her for maybe 3 seconds. Scrape your beater, take out your bowl and mix the rest by hand, you should only need to do a few folds and voila your heavenly masterpiece is nearly complete.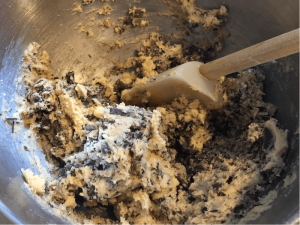 Lay out your cookie sheets-now is not the time for parchment! We want a golden bottom on these cuties so ungreased cookie sheets will do. Then, you need a scoop.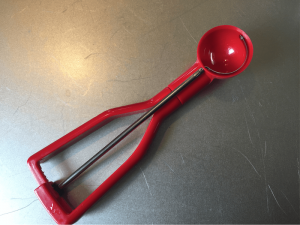 You may already have one like this if you're trying to impress your friends.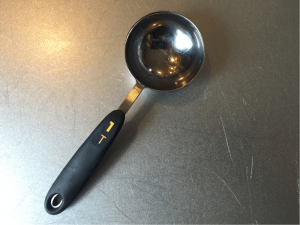 At the very least you should have one of these. If you don't, bless your heart, I don't know how you got this far into the recipe. Scoop by level tablespoon onto cookie sheets.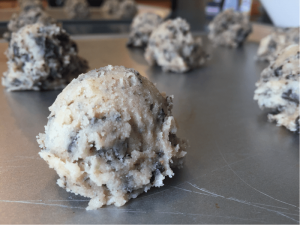 Can you even stand it?
Bake 9-11 minutes until golden on the edges of the bottom.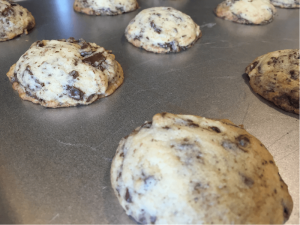 They are thicker than you might expect, but that's what you want! More chewiness!
Not a fan?
Flatten them out a bit after you scoop them onto the tray.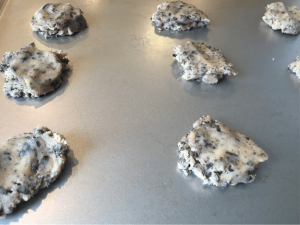 You'll get these: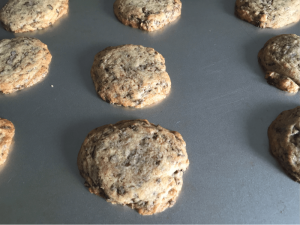 Let cool for 3 minutes on sheets. Then, transfer to cooling racks. When will they be safe to stuff into your face without risk of third-degree burns? Nine and a half minutes after leaving the oven. Don't ask me how I know.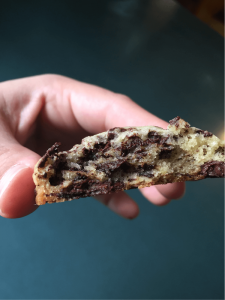 Look at the LAYERS of chocolate! That's what you get with the shavings and small chunks. Makes 45-40 cookies depending on how many you're willing to admit to your family that you ate. Enjoy! – Liselle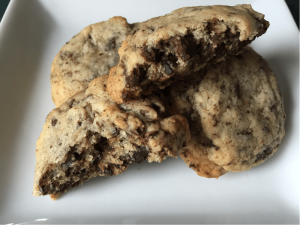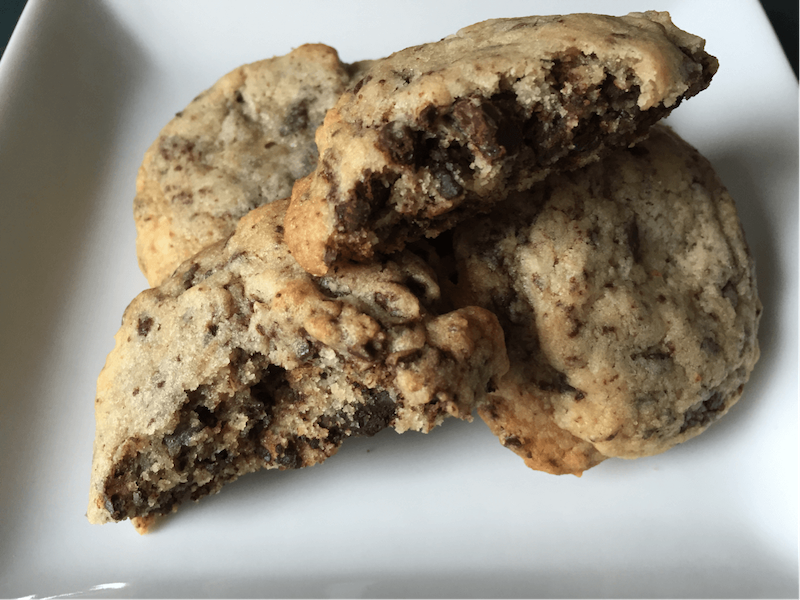 Wilbur's Chocolate Chip Cookies
12 oz. Wilbur's of Maine Dark Chocolate Bark

1 Cup (2 sticks) softened unsalted butter

1 Cup packed light brown sugar

½ Cup granulated sugar

1 tsp. vanilla extract

2 extra-large eggs

2½ Cups all-purpose flour

1 tsp. baking soda

1 tsp. salt
Directions
Preheat oven to 375 degrees.

With a sharp chef's knife chop the chocolate bark into small chunks.

In a bowl combine butter and sugars. Cream with mixer until well combined.

Add vanilla and one egg one at a time beating well after each addition. Scrape down the sides of the bowl.

Add one cup of flour, baking soda, and salt. Beat until just combined. Add remaining flour, beating until just combined. Scrape down the sides of the bowl again.

Add your chopped chocolate and turn on your mixer for a few seconds only. Do any remaining mixing by hand.

Scoop dough by level tablespoons onto ungreased cookie sheets 2 inches apart.

Bake for 9-11 minutes. Cool 3 minutes on the sheet, remove to a cooling rack to finish cooling before storing in an airtight container for up to 3 days.
Yields approx. 40 cookies