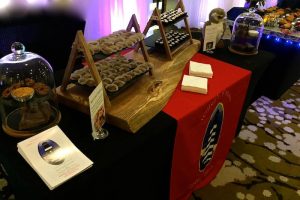 There is a great event in Freeport organized by Freeport USA called Flavors of Freeport. While it has evolved into a weekend-long extravaganza of activities, the night we look forward to the most each year is the Chef Signature Series. Local restaurants, purveyors, confectioners, breweries, and the like gather to offer samples of a dish or libation they believe best represents their business.
Andy Wilbur likes to use this as an opportunity to think outside the box. Most of what we create at the factory is limited by its shelf life. At an event like Chef Signature Series, Andy can craft a confection for immediate consumption, opening a larger window of confectionary possibilities.
Enter this year's triumphs, "Meet Me at Hogsmeade" & "Say It Isn't Samoa."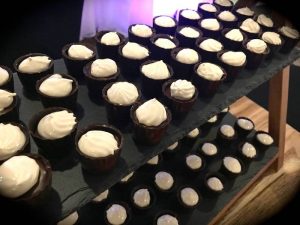 If you have a rudimentary understanding of the Harry Potter series, you may recognize the name Hogsmeade. The Harry Potter series is a personal interest of Andy. He created a truffle as a nod to the now infamous drink of young and old in the books, Butterbeer.
Nestled in a dark chocolate cup is the vanilla caramel truffle, topped with homemade butterscotch marshmallow. People lost the ability to form coherent sentences after indulging in one of these luscious truffles.
No, it wasn't from alcohol. These are alcohol-free. It was the sheer culinary delight that over took them as they chewed and were transported to a place they only imagined in their minds, the bustling tavern of Hogsmeade.
As if that wasn't enough, Andy blew our minds with a salute to everyone's favorite Girl Scout cookie, Samoa, or as you may now know them, Caramel Delights. Toasted coconut nougat, vanilla caramel, enrobed in milk chocolate, and topped with toasted coconut. It was rich, not too sweet, a little crunchy, and not too chewy bite of perfection that made us wish our cookie orders were in already.
This event is always exciting with laughter, old friends, neighbors, and new customers dancing, eating, and drinking. The reactions among the crowd were clear. "Yum!" "Where can I get this chocolate after tonight?"
Because of the fresh piped butterscotch marshmallow on our Meet Me at Hogsmeade, that delight will not be available in stores in the same form as it was at Chef Signature Series. There are talks of transforming the confection into longer-lasting and less messy chocolate.
The good news is, "Say it isn't Samoa" is coming to a store near you this month under its new name, "Cocomels." Nothing changed about these milk chocolate dreamboats. Pick some up in honor of your favorite Scout.
We had the honor of coming in First Place in the "Sweets" category that evening. It was a wonderful end to a great event. If you ever have the chance to be in Freeport in February, we highly recommend tickets to the Chef Signature Series. You can be our willing guinea pigs and taste the next big confection before it reaches stores.